Petcover Group Receives Recognition at the 2022 Broker Innovation Awards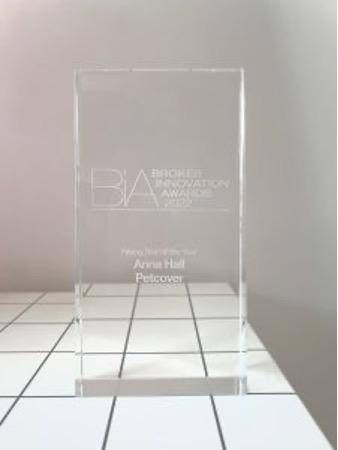 The Leonardo Royal Hotel London, St. Paul's hosted the Broker Innovation Awards 2022 last week. British Pet Insurance was nominated for a Customer Service Award, and Anna Hall, the Petcover Group's global head of marketing and communications, was nominated for Rising Star of the Year. The Petcover Group received recognition in two categories.
More information regarding our nominations can be found here.
We are happy to report that Anna Hall has been named the 2017 Rising Star of the Year.
Due to prior commitments, Anna was sadly unable to attend the event, however Marketing Executive Richard was present to accept the award.
Here are Richard's words of thanks from the evening:
In the time that Anna has been with Petcover Group, she has radically reshaped and revitalised the worldwide marketing and communications team and initiatives. None of us are exactly sure when Anna gets time to sleep because she is constantly available around the clock. Anna is always there to support and mentor us, whether it's getting up early to help our Australian co-workers, working all day with the UK team, or staying up late for New Zealand Meetings.
This honour is a genuine testament to Anna's commitment to fostering a work environment that is secure, collaborative, and enjoyable not only in her role but to for the team at Petcover Group.
We are all immensely proud of Anna and the British Pet Insurance Customer Service Team for their success in being nominated. We appreciate the Broker Innovation Awards' acknowledgment and kindness.